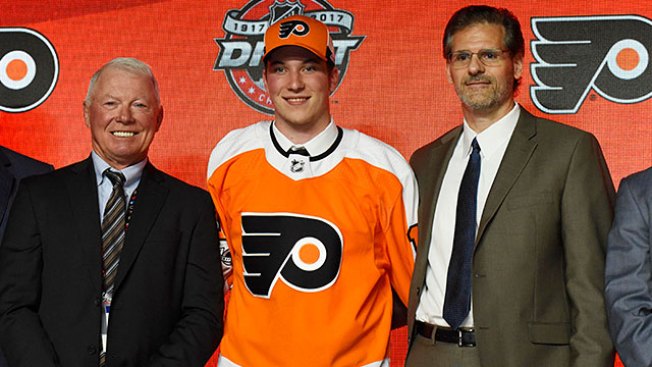 Happy Fourth of July everyone! As Canada's neighbors from the south celebrate our independence over the next few days, plenty of the NHL's elite are celebrating new contracts and new places that they will call home. In the last 24 hours alone, the Dallas Stars have signed Alexander Rudulox to a 5 year contract, Joe Thorton re-upped to the Sharks for one more year and former Shark Patrick Marleau was able to ink a 3 year deal in Toronto. There are plenty of fan bases celebrating the offseason so far and I think right now the top winner could be the Dallas Stars.
Dallas, just before the actual off season began, traded for Ben Bishop and immediately signed him to a six -year contract. During Free Agency, the Stars also added Martin Hanzal. With Benn, Spezza, Rudulov, Hanzal on the front lines and the return of Ken Hitchcock behind the bench this Stars team could be a powerhouse in the West.
But despite Free Agency around the league many teams are excited to due to the draft results. One team in particular is the Flyers.
Of course every Flyers fan became excited over the draft once it was discovered that the Flyers won the 2nd overall pick. I nearly jumped off the couch myself. Over the weeks from the Lottery to the draft, it was argued on who the clear cut number overall would be, Nolan Patrick or Nico Hischier?  For the longest time, Patrick was labeled the number one by many scouts however in the last week leading up to the draft Hischier, was labeled the number one choice. It was probable that Patrick's injuries and offseason surgery led to his fall in the pre-draft rankings and as the rankings predicted, Patrick was selected 2nd overall by the Flyers.
Injury aside, the Flyers have landed their future number one center in Patrick. Despite not playing 100 percent, Patrick still collected 46 points last season, 20 goals and 26 assists in only 33 games with Brandon Wheat Kings. (WHL) in previous season, Patrick had 41 goals and 102 points in 72 games. TSN Analyst Craig Button said that Patrick is a "very smart player. His hallmark is his passing, and he's got a good shot. And because of his size, he's got the ability to hold off the guy, draw another guy to him, and he has great vision on getting the puck (to someone) and open up a play."
Size is something the Flyers lack in a center from an offensive standpoint. Patrick is bigger in both height and weight than Giroux, Konecny, and Filpula. Center Sean Couturier, while taller and
heavier, still has not lived up to his expectations as an offensive center, however since Couturier was moved to the 3rd line at last year's trade deadline, he's played much better and is better suited for a 3rd line role.
Now two questions now come into play for training camp. Does Patrick make the opening night roster and does Patrick play center? General Manager Ron Hextall has never been one to rush a player in to the NHL, however many believe Patrick's days in Juniors are over and will be in the line-up come October.
It will be interesting to see who will play wing now that the Flyers have a plenthora of centers. (Giroux, Filpula, Patrick, Couturier, Lethera, Vecchione, Laughton, and Weal)
I believe we'll see Giroux, Patrick, Couturier and Lethera being your centers while the rest are moved to wing and Laughton and Vecchione battle for 4th line spot on the wing.
Of course all of this is speculation. Patrick who won't participate in Flyers Rookie camp, won't be able to hit the ice until September and will have to earn his spot. It's hard to predict where a drafted rookie who's never played an NHL game will fall come October, although I believe that the trading of Brayden Schenn all but confirmed that Patrick will be playing in NHL.
But once Patrick heals from his offseason surgery and starts rehabbing, I'm sure he'll be hungry to show that he belongs on the Flyers next season. The Flyers are coming into the beginning of what they've been building for since Hextall took over as GM. There will be plenty of spots open for the young rookies to play and Hextall has already stated that he's done for the summer with FA signings and trades. That is something that should be refreshing to hear for Flyers fans, who've seen many of their young prospects traded in favor of aging veterans who the front office thought could "win now." Thankfully that philosophy is a thing of the past.
I for one cannot wait to catch Patrick in Training Camp and see what this kid is made of. It's been a long time since Flyers fans have had something to be excited about and now with the Flyers having a "Murders' row of young players" (NBCSN Analyst Pierre McGuire), we'll finally get to see a glimpse of our future hit the ice come the Fall.
Later this week, I'll re-cap the rest of the Flyers draft and projected line-ups for this upcoming season.
I will be posting Flyers and NHL updates all summer on Twitter. Follow me @iban3zhead
2